WEEKEND FLASHSALE DONNAY[2SETFORRM79] | VALID UNTILL 05 OCTOBER 2019 - 06 0CTOBER 2019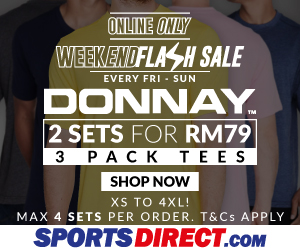 WEEKEND FLASH SALE
"DONNAY TEE
05 OCT2019 - 06OCT2019"
2 sets if 3 pack t-shirts for RM79!
Don't miss your chance to bag a bargain here in this weeks' Sports Direct Weekend Flash Sale. Ready for a multitude of occasions, these sporting supplies and wardrobe must-haves are just unmissable. ONLINE ONLY.
Donnay 3 Pack T Shirts Mens
The Donnay 3 Pack T Shirts offers easy all day wear thanks to the classic crew neck and regular fitting design, coupled with a regular fit and short sleeve design.
> Mens T Shirts
> Pack of 3
> Short Sleeves
> Crew Neck
> Regular Fit
> 100% Cotton
> Machine Washable
3 Pack V Neck T Shirt Mens
Colour:White
3 Pack T Shirts Mens
Colour:Plum/Aqua/Blue
Visit For More Item