STIMULUS CUTI MALAYSIA | 25 NOVEMBER 2020 - 08 DECEMBER 2020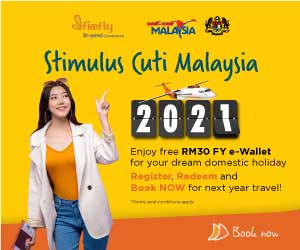 RM30 FY e-Wallet Cuti Malaysia Stimulus

(25 NOV - 8 DEC 2020)
What you need to do?
1) Register on Firefly Website
2) Redeem Free RM30 FY e-wallet credit
3) Book your dream holiday destination!happy holiday!

Terms & Conditions;
1. This campaign is open to residents of Malaysia with valid identification number (NRIC) and 18 years old or above.
2. Exclusively for eligible Firefly members only with a valid Malaysia government issued MyKad
3. Eligible members are only entitled for one-time redemption of the FY e-Wallet credit
4. Firefly reserves the right to deny the credit or boarding if any fraudulent information is provided
5. FY e-Wallet credits are subject to FY e-Wallet terms and conditions and cannot be exchanged for cash in part or full. Any unutilized amount shall be forfeited.
6. Use your FY e-Wallet credits by 8 Dec 2020
7. Travel from now until 30 Oct 2021
8. Only for Firefly domestic destinations
9. Flight bookings are subject to Firefly's General Conditions of Carriage
10. The terms & conditions are subject to change without notice