WONDERS FROM HOME FIBRE BROADBAND |ONGOING
TIME is Malaysia's second-largest fixed-line telecommunications operator that provides Data, Internet, Voice and Managed Services solutions to businesses and homes in the country. We became the first operator to deliver 100% fibre optic connections directly into your office or home so you get to enjoy Internet as it should be, fast and uninterrupted. In true TIME spirit, we push ourselves hard and made it our duty to bring Malaysia up to speed. We now deliver Malaysia's fastest home broadband service at speeds of up to 500Mbps.Visit here:Time home fibre broadband.
Time Home Fibre Broadband is Malaysia's Most Consistent
Broadband Provider
(
Based on analysis by Ookla® of
Speedtest Intelligence® data for Q2–Q3 2020).
Thats why its can
Keeping you consistently connected without the lag.
Untill 30 November 2020,Time Fibre Home Broadband had make promotion for those who subscribe this home broadband;Enjoy RM100 OFF for your first bill across all plans!SIGN UP NOW IN HERE>>>TIMEFIBREHOMEBROADBAND<<<DO WONDER FROM HOME WITH US TODAY!!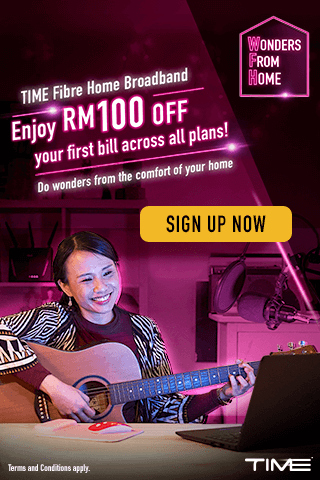 ****