CAUSE OF UNEVEN SKIN TONE OR HYPERPIGMENTATION - DID YOU KNOW?
Based on
article
,the cause of uneven skin tone or hyperpigmentation is the result of an over production of melanin. Melanin is the natural pigment that gives our skin, hair and eyes their color.It's helps protect skin against damaging UV light and absorb heat from the sun. However, an overproduction of melanin stimulated by excessive sun exposure, hormones, or scarring, leads to a mottled, uneven skin tone.

DID YOU KNOW?
Skin being largest organ, responsible for detoxifying the body and elimination.Did you know?an adults carry some 8 pounds (3.6 kilograms) and 22 square feet (2 square meters) of it. This fleshy covering does a lot more than make us look presentable. In fact, without it, we should literally evaporate.
In fact:Skin acts as a waterproof, insulating shield, guarding the body against extremes of temperature, damaging sunlight, and harmful chemicals. It also exudes antibacterial substances that prevent infection and manufactures vitamin D for converting calcium into healthy bones. Skin additionally is a huge sensor packed with nerves for keeping the brain in touch with the outside world. At the same time, skin allows us free movement, proving itself an amazingly versatile organ.
As your body's largest organ, do you give skin enough thanks and care?Care it with dermalogica today and you'll satatisfied with his result!Now,untill October 31,get a New Intensive Trio (worth RM198) for FREE with every RM550 puchase today!get it now,for your skin care!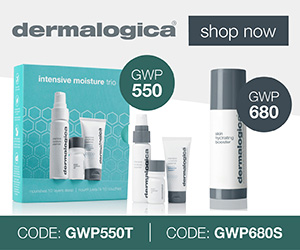 Profesional-Grade;
Delivers nourishment 10 layers deep to help restore dry, depleted skin!
Get this NEW! Intensive Moisture Trio (worth RM198) for FREE with every RM550 purchase today!
Kit includes:
•
Intensive Moisture Cleanser (30ml)
Light, creamy cleanser is twice as effective at removing long-wear makeup while actively nourishing dry skin.
•
Phyto Replenish Oil (4ml)
Feather-light treatment oil rapidly absorbs to reinforce the skin's protective barrier.
•
Intensive Moisture Balance (15ml)
Ultra-nourishing moisturizer restores lipid balance to dry, depleted skin for optimal barrier performance.
- Free Shipping on orders above RM200
- Free Complimentary samples on all orders
- Welcome Gift for new member's 1st order
!!ORDER NOW IN HERE!!